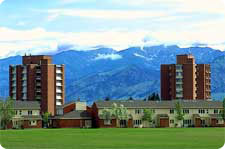 Bozeman Montana is a beautiful city nestled in the Gallatin Valley (altitude:4,800 feet). It is surrounded by rich farmland with the Bridger Mountains to the east, the Gallatin Range to the South, and the Tobacco Root Mountains to the West.
Bozeman is a small town (pop. 29,000) with the amenities of many larger cities such as shopping, parks, world-class museums, and arts and cultural opportunities.
The city is close to National Forest lands with many opportunities for hiking, biking, climbing, hunting, and skiing. Several nearby rivers offer wonderful opportunities for fishing, kayaking, and rafting. Just 90 miles to the south is Yellowstone National Park. Bridger Bowl ski area is 16 miles to the northeast and Big Sky Resort is 45 miles to the south.