About Montana State University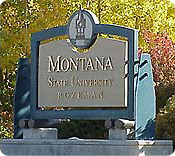 Montana State University is situated in the heart of Bozeman, Montana. It has three affiliate campuses throughout the State (Billings, Havre, Great Falls), seven agricultural research centers, and 60 Extension locations.
MSU enrolls over 11,000 students and has been accredited by the Northwest Association of Schools and Colleges since 1932. MSU offers baccalaureate degrees in 50 fields with many different options, master's degrees in 40 fields, and doctoral degrees in 13 fields.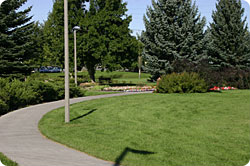 Montana State University-Bozeman is a land grant university. It provides education, research, and extension/outreach programs to meet the changing needs of Montana and it's residents. The Montana Agricultural Experiment Station (MAES) was established at MSU in 1893. The MAES conducts research and provides input on issues that help maintain the vitality of Montana' s agricultural industry.
Montana Agriculture Experiment Station
MSU is a member of the NCAA Division I Big Sky Conference. Men compete in football (I-AA), basketball, indoor and outdoor track, cross country, and tennis.
Women compete in basketball, volleyball, indoor and outdoor track, cross country, tennis, alpine and nordic skiing, and golf. Rodeo competition for men and women is conducted through the Big Sky Region of the National Intercollegiate Rodeo Association.
Important Links
This is a GREAT place to start. It lists just about everything you'll want to know about MSU. Such as:
Admissions,
Financial Information,
Housing Options,
Career Services,
Distance Learning,
Disabled Student Services,
Student Health Services, etc.
Home page for MSU, Bozeman