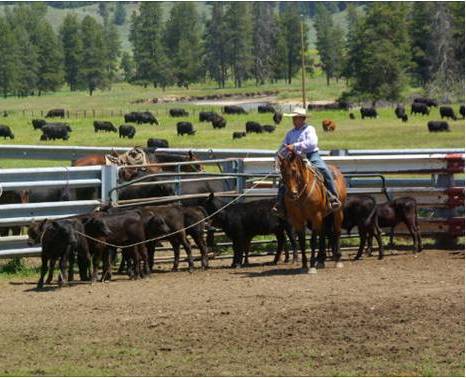 The Equine Science program is an option of the 4–year Animal Science degree program. This option emphasizes science and technology combined with practical aspects of management, horsemanship and training. The program includes courses in Western and English equitation, plus:
Equine growth, development, reproduction and nutrition
Business, marketing and management for the equine industry
Colt breaking, horse training and behavior
Land management for small acreage grazing
Hands–on learning through internships, research, and projects that fit your special interests
Well–rounded experience in basic sciences, communication, leadership, ecology and business
Graduates of this program will gain a firm foundation to meet the growing needs of the equine industry. This program is designed to prepare students for employment in breeding, nutrition, and management of facilities and land, and in allied industries such as sales, feed, tack, and equipment. Students can tailor their program to emphasize science, business, or rangeland or pasture management.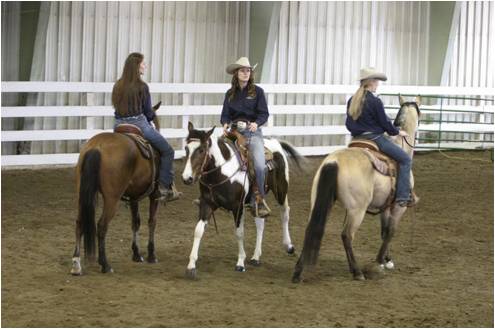 At MSU in Bozeman, the Rocky Mountains are your playground!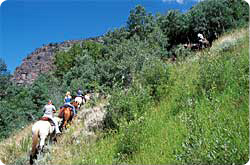 Gallatin National Forest — Numerous trailheads just 15 minutes from campus
Yellowstone Park is only 90 miles away
Great fishing, hunting, skiing, and outdoor recreation
MSU has a Rodeo Team, Horseman's Club and Polo Club
Bozeman, Montana is a horse–lover's paradise! The area features several outstanding riding and boarding facilities, ranch recreation enterprises, and numerous horse shows
Equine Clubs & Activities
Equine Science Option degree Requirements
Sample Equine Courses
MSU Horses Currently for Sale Contact Andi (406) 994-6878 or Email: ashockley@montana.edu
"Cowboy"
Cowboy (grade gelding, 14.3 h) is the cutest little buckskin you have ever seen, but looks can be a bit deceiving. He may be cute and little, but this guy is ready for a job. He is 15 years old and ready for someone who wants to have fun! Cowboy doesn't take life too seriously so he needs a rider with the same attitude. This horse would make someone a great little endurance or O-Mok-See mount or even just for trail riding! He's just not meant to be a school horse; although the lessons he has taught our students are invaluable! Cowboy's vice is that he likes to crow-hop. He needs to be ridden consistently and consistently by the same person. He tries each new person who rides him. He needs a competent rider, not necessarily an advanced rider, but one willing to get to know him and not try to "take the buck out of him." He is who he is and those who take the time to get to know him really enjoy riding him. Asking price $2,000.
"Smoke'N"
Smoke N Peppy Olena (Smoke'N) goes back to Peppy San Badger on the top side and Doc O'Lena on the bottom side (registered APHA). He is one of the best horses we have at MSU; he just doesn't do well with lots of different people riding him. We hate to sell him but he needs to be a one family horse. He is the age (10), size (15.1 h) and ability level everyone is looking for! Smoke'N does it all and does it all well! He's worked cattle, jumps, is great outside on a trail or inside an arena, and knows all the technical stuff too. He would make an excellent mount for anyone from a confident novice/intermediate on up! Even after being ridden the past six years by students he remains sensitive to seat and leg aids! Priced to sell at $4,300.
"Molly Brown"
Molly Brown is a beautiful 7-year-old brown/bay mare with a sweet disposition as long as her rider is fair. She is sensitive, stops well, turns around on her hindquarters and will collect up fairly easily. She is just more of a one rider kind of horse. She may have had an incident in her past causing issue with her mouth, thus keeping her from being an ideal school horse as most beginner and many novice riders balance on the reins for support. With a consistent rider she is very easy to ride and softens and rounds nicely. This mare obviously had an excellent start and had some professional reining training before coming here. She would make a nice youth (middle school or older) or ladies horse as she is very feminine and refined in build. Sells for $2500.