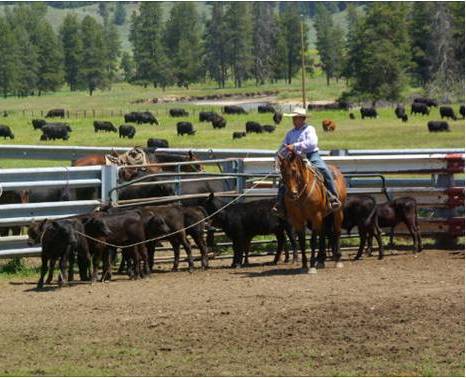 The Equine Science program is an option of the 4–year Animal Science degree program. This option emphasizes science and technology combined with practical aspects of management, horsemanship and training. The program includes courses in Western and English equitation, plus:
Equine growth, development, reproduction and nutrition
Business, marketing and management for the equine industry
Colt breaking, horse training and behavior
Land management for small acreage grazing
Hands–on learning through internships, research, and projects that fit your special interests
Well–rounded experience in basic sciences, communication, leadership, ecology and business
Graduates of this program will gain a firm foundation to meet the growing needs of the equine industry. This program is designed to prepare students for employment in breeding, nutrition, and management of facilities and land, and in allied industries such as sales, feed, tack, and equipment. Students can tailor their program to emphasize science, business, or rangeland or pasture management.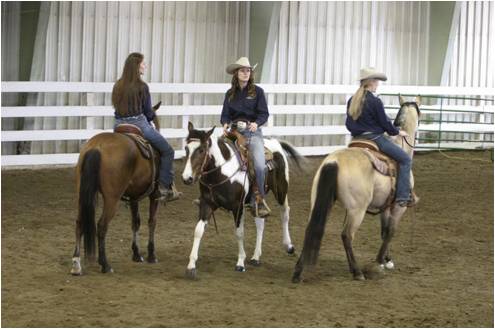 At MSU in Bozeman, the Rocky Mountains are your playground!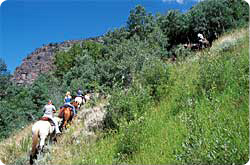 Gallatin National Forest — Numerous trailheads just 15 minutes from campus
Yellowstone Park is only 90 miles away
Great fishing, hunting, skiing, and outdoor recreation
MSU has a Rodeo Team, Horseman's Club and Polo Club
Bozeman, Montana is a horse–lover's paradise! The area features several outstanding riding and boarding facilities, ranch recreation enterprises, and numerous horse shows
Equine Clubs & Activities
Equine Science Option degree Requirements
Sample Equine Courses
MSU Horses Currently for Sale Contact Andi (406) 994-6878 or Email: ashockley@montana.edu
"Smoke'N"
My name is Smoke'N (Smoke N Peppy Olena, APHA) and my pedigree goes back to Peppy San Badger on the top side and Doc O'Lena on the bottom side. I am a roany tobiano paint, stand 15.1 hands, am 11 years old, and I am ready to please! My current occupation is teaching Montana State University students how to ride (both English and Western). I teach them the basics, and really thrive when they use their seat and legs, as I am sensitive and correct when this is done. We also jump (which I love), do groundwork (I am extremely respectful), ride outside on trail rides, and even team pen! Although I really like and am good at all the things listed above, I would like to be a one family horse. Some of the students don't earn my trust which makes me a bit nervous and transfers to them. The students who do earn my trust love riding me! Some of my other qualities are that I am excellent to shoe, I load, clip, and get along very well in a herd, both when riding and when housed in a pen with other horses. I don't really have any bad habits except getting nervous with those untrustworthy students. If you would like more information, or pictures of me, please e-mail or call Andi Shockley. Price: $3,900
"Molly Brown"
My name is Molly Brown, or Molly for short. I am a brown/bay in color, am 7 years old, and stand 15 hands. I am mostly used in the Western equitation classes, both Beginner and Intermediate, but occasionally I am ridden English too. My strong points include my consistency. I am pretty much the same horse every time you get on me, whether is has been a day or a month since I was last ridden. I am calm, and also have a nice easy trot and move very easily off leg and seat pressure. I do have a weakness or two. I can be a bit pushy on the ground, although I am getting better about this. If I become anxious I have a tendency to flap my lips. This may happen if I get put in a situation where I have no place to go, and am being pulled on or if I am nervous about something. My mouth is sensitive so I like a rider with soft hands, who will either stay completely off my face or ride me with a contact that neither bumps nor pulls. A good rider, a quiet rider, or one willing to work on becoming a softer rider, will adore me. I also have a very pretty face and delicate features. For more information or pictures, contact Andi Shockley. Price: $2,500