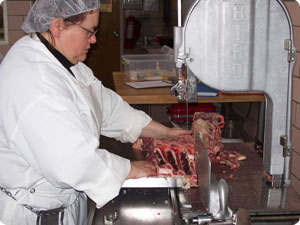 Dr. Boles demonstrating steak cutting for meat science students.
Associate Professor, Meat Science
207 Animal Bioscience Building
Montana State University
Bozeman, MT 59717
Phone: (406) 994-7352
Fax: (406) 995-5589
Email: jboles@montana.edu
Education
B.S. University of Missouri, Animal Science
M.S. Iowa State University, Meat Science
Ph.D. Iowa State University, Meat Science
Classes
ANSC 100 Introduction to Animal Science
ANSC 205 Introduction to Meat Evaluation
ANSC 308 Introduction to Livestock Evaluation
ANSC 316 Meat Science
ANSC 416R Meat Processing
ARNR 525 Muscle and Growth Biology
Research Interests
Current research interests include the improvement of meat tenderness and consistency, effect of rearing regimes on meat quality and increased utilization of under utilized cuts from the beef chuck and round.
Accomplishments and Interests
USDA/FSIS approved HACCP training as part of the Montana HACCP training Group
HACCP Contact for Montana Meat Processes
Worked at the Meat Industry Research Institute of New Zealand in the Processed Meat Section.
Coordinated the Value-Added Beef Program in Canada.
Recent Publications
Peer-Reviewed
Sindelaar, J. J., M. J. Terns, E. Meyn, and J. A. Boles. 2010. Development of a method to manufacture uncured, no-nitrate/nitrite added whole muscle jerky. Meat Sci. 86:298-303.
Redden, R. R., R. W. Kott, J. A. Boles, A. W. Layton, and P. G. Hatfield. 2010. Effects of late gestation supplementation of rumen undegradable protein, vitamin E, zinc, and chlortetracycline to ewes on indices of immune transfer and productivity. J. Anim. Sci. 88:1125-1134.
Redden, R. R., R. W. Kott, L.M.M. Surber, J. A. Boles, A. W. Layton, and P. G. Hatfield. 2010. Post-weaning management of lambs alters subsequent feedlot performance and tissue deposition. Sheep and Goat Res. J. 24:26-31.
Boles, J. A., D. L. Boss, K. I. Neary, K. C. Davis, and M. W. Tess. 2009. Growth implants reduced tenderness of steaks from steers and heifers with different genetic potentials for growth and marbling. J. Anim. Sci. 87:269-274.
X. L. Yu, X. B. Li, X. L. Xu, G. H. Zhou, and J. A. Boles. 2009. Definition of the optimum freezing time postmortem for manufacturing pork meat. J. Muscle Foods 20:186-200.
Boles, J. A., and P. J. Shand. 2008. Effect of muscle location, fiber direction, and slice thickness on the processing characteristics and tenderness of beef stir-fry strips from the round and chuck. Meat Sci. 78:369-374.
Boles, J. A., K. Neary, and K. Clawson. 2007. Survival of Listeria monocytogenes on jerky contaminated postprocessing. J. Muscle Foods 18:186-193.
Groenlund, K., J. A. Boles, and J. E. Swan. 2007. Cooked turkey roasts have different processing characteristics than cooked beef roasts. Fleischwirtschaft International 4:70-73.
Book Chapters
Pegg, R. B. & J. A. Boles. 2013. Curing. Production procedures. In: M. Dikeman & C. Devine (eds.), Encyclopedia of Meat Sciences, Second Edition, Oxford, UK. Elsevier Ltd. (In press).
Boles, J. A. 2011. Use of Cold-Set Binders in Meat Systems. In: Processed Meats: Improving Safety, Nutrition and Quality. Edited by J. P. Kerry and J. F. Kerry. Woodhead Publishing Limited, Cambridge, UK. pp 270-298.
Boles, J. A. 2010. Thermal Processing of Meat. In: Handbook of Meat Processing. Edited by Fidel Toldrá. Wiley-Blackwell, Ames, IA.
Invited Presentations
Boles, J. A. 2011. "Impacting Pork Quality." Salmon Creek Farms. October 18, 2011.
Boles, J. A. 2010. "Natural Curing of Meat Products." New Zealand Institute of Food Science and Technology, Auckland, New Zealand. June 20–22, 2010.