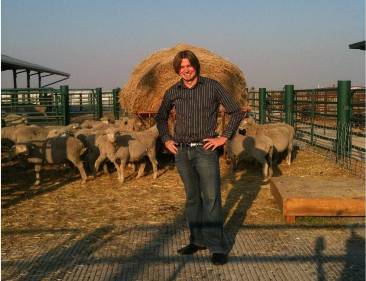 Assistant Professor, Rumen/Gastrointestinal Microbiology
321 Animal Bioscience Building
Montana State University
P.O. Box 172900
Bozeman, MT 59717-2900
Phone: (406) 994-7440
Fax: (406) 994-5589
Email: carl.yeoman@montana.edu

Visit the Yeoman Lab Webpage
Education
B.S. Massey University, Microbiology and Genetics, 2003
Ph.D. Massey University, Palmerston North, Microbial Genomics, 2009
Classes
ARNR 520 (F) Advanced Ruminant Nutrition
ARNR 507 (S) Research Methods
BIOM 405 (F) Host-associated Microbial Ecosystems
Research Interests
My research exploits molecular techniques to examine the microbial ecology associated with animal systems. My specific focus is on the microbial ecosystems of the gut and their role in health, nutrition and performance, and those occupying the vaginal tract and their relation to reproductive performance and neonatal health. I believe that microbial ecosystems have an evolved ecology principally governed by their symbioses, as is evident in many systems. Obtaining a system-wide understanding of these relationships is fundamental to improving human health, livestock systems, the interactions of each with the environment.
Support
NIH-NIAID (R21) Microbial Polyamine-Mediated Reductions in Vaginal Acidity; A Mechanistic Understanding of Vaginal Dysbiosis. (PI Yeoman)
USDA-NIFA (Climate Change Program) Development Of Dietary Interventions To Mitigate Climate-Induced Alterations Of Rainbow Trout (Oncorhynchus mykiss) Gut Microbial Populations and Protein Metabolism. (PI Yeoman)
USDA-NIFA (Tribal Colleges Program) Undergraduate Student Research Experience: Building Student Education Attainment by Developing Scientific Research Abilities. (PI Schumacher)
NIH (NHGRI R25) Guiding Indigenous Students in Next-generation Genomic Studies with the Summer Internship for Native Americans with an Interest in Genomics. (PI Malhi)
Montana Wheat and Barley Committee Determining the Potential of Wheat Stem Sawfly Endosymbiotic Microbiota for Exploitation in Developing Unique Management Strategies. (PI Yeoman)
Land O' Lakes Supply of Milk Replacer for Neonatal Lamb Studies.
Recent Publications