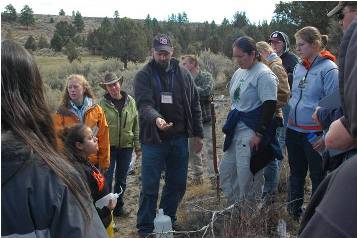 Dr. Carr discussing rangeland watershed management on a class field trip.
Assistant Professor, Rangeland Ecology
319 Animal Bioscience Building
Montana State University
P.O. Box 172900
Bozeman, MT 59717-2900
Phone: (406) 994-3282
Fax: (406) 994-5589
Email: craig.carr@montana.edu
Education
Ph.D. Oregon State University, Rangeland Ecology & Management, 2007
M.S. Oregon State University, Rangeland Resources, 2003
B.Sc. University of Alberta, Animal Science, 1994
Classes
NRSM 235 Range and Pasture Monitoring
NRSM 350 Vegetation of Western Rangelands
NRSM 351 Biomes of Western Rangelands
Research Interests
Conifer encroachment
Rangeland hydrology & watershed management
Wild horse habitat use and landscape distribution
Non-equilibrium ecology and state-and-transition models
Restoration ecology
Grazing management
Recent Publications
Carr, Craig A., and William C. Krueger. (In Review). Undercanopy light availability influences pondersoa pine ecosystem resilience.
Carr, Craig A., and William C. Krueger. 2012. Utility of the soil seedbank in the recovery of understory herbaceous species in a ponderosa pine (Pinus ponderosa Dougl.) ecosystem. Northwest Science 83(3):(In Press).
Carr, Craig A., and William C. Krueger. 2011. Understory vegetation and ponderosa pine abundance in eastern Oregon. Rangeland Ecology and Management 64(5):533-542.
Carr, Craig A. 2008. Reading, writing, range cons and retirement: thoughts from a rookie range prof. Rangeland News 61(9):12-14.
Carr, Craig, Tamzen Stringham, and David Thomas. 2003. The influence of environmental and physical factors on the thermal patterns of headwater streams. Range Science Series Report #6. Department of Rangeland Resources, Oregon State University, Corvallis.