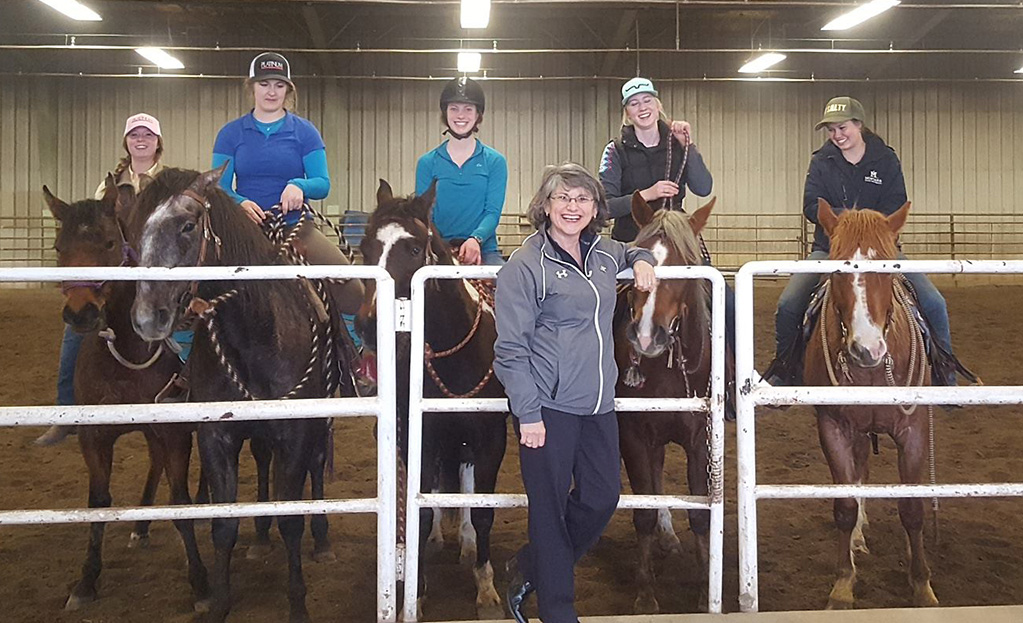 President Waded Cruzado visited the Bob Miller Pavilion on March 4, 2017 to meet the ponies from the Colt Starting Class. Pascal, Cosmos, Grace, Bow and Mogli were all happy to say hi.
---
---
Awards and Grants
Carl Yeoman was part of a team led by Jovanka Voyich (Microbiology & Immunology) awarded$1,500,000 by the office of the commissioner for highereducation for a project entitled"One Medicine: Reducing The Impacts Of Inflammatory And Infectious Diseases On Animal And Human Health."

Carl Yeoman and Seth Walk (Microbiology & Immunology) were awarded $72,000 to Optimize a new murine model of the human vaginal microbiome: A much needed tool for understanding the connections between vaginal microbes and host health.

Hayes Goosey was awarded a five year award totaling $492,653 from the United States Fish and Wildlife Service/Montana Fish Wildlife and Parks. The title of this grant is: "Insects 2.0 - Investigating the impacts of grazing on invertebrate grouse food, pollinators, and dung beetles in grassland and sagebrush ecosystems."

Hayes Goosey was awarded a three year award totaling $100,375 from the USDA NRCS Conservation Effects Assessment Program (CEAP). The title of this grant is: "Quantifying the influences of livestock grazing management on food arthropods of Sage Grouse."

Carl Yeoman and Elizabeth Rink (Health & Human Development) were awarded $43,083 by the National Institutes of Health funded Ideas Network of Biomedical Research Excellence to "Build Research Capacity And Community Awareness On The Vaginal Microbiomes Importance To Reproductive Health Among Blackfeet Nation."

Cecil Tharp was awarded $16,640 from Montana Wheat and Barley for pesticide education for wheat and barley producers - drift reduction. The MSU Pesticide Education Program has received funding for teaching pesticide applicators the value of selecting appropriate nozzles for spray applications. Applicators must be more aware of spray drift to sensitive areas due to the increase in integrated cropping systems across the state. This grant will be used to build nozzle demonstration kits and demonstration tables for 56 MSU Extension agents in 5 regions of Montana (PAT regions; www.pesticides.montana.edu).These kits will include nozzles, presentations, demo table and fact sheets.
McNew, L.B., L. Berkeley, J. Ensign, and M. Foster. Effects of livestock grazing management on the ecology of sharp-tailed grouse, grassland birds, and their predators in mixed grass prairie habitats of Montana. U.S. Wildlife Aid and Restoration Program, Montana Department of Fish, Wildlife, and Parks, $533,975. January 2015 – December 2019.

McNew, L.B., D. Tyres, and B. Sowell. Distribution of grizzly bears in relationship to Forest Service grazing allotments and moth aggregation sites in the Greater Yellowstone Ecosystem. U.S. Forest Service, $80,000. August 2015 – December 2019.

Lance McNew will be receiving $19,000 to expand graduate student research assessing the efficacy of rapid-deployment electric fencing for preventing bear and ungulate damage to livestock and crops. Blackfoot Challenge, $19,000. December 2015 – May 2017.

Pat Hatfield, Emily Glunk, Carl J.Yeoman, and Darrin Boss were part of a team awarded $2,276,734 for research to increase the profitability of Montana's farm and ranch lands by improving farming efficiency by the Montana University System.

Cecil Tharp was awarded this Crop Life America Grant. Pesticide Modernization and Sustainability Initiative. $48,307. July 2015 – July 2017. Purpose of grant is to leverage funding for a more robust pesticide safety education program in Montana. This funding supports increased out-reach, surveys of stakeholders, advisory panels, stakeholder panels and potential legislation to support MSU Extension's Pesticide Education Program.

Cecil Tharp was awarded a Wheat and Barley Grant for the Montana Private Applicator Program in the amount of $25,138. Purpose of grant is to support calibration programs targeting wheat and barley producers while creating calibration kits for pesticide trainers across Montana.

Elizabeth Flesch, PhD student, was awarded a 5 year NSF Graduate Fellowship to study Rocky Mountain Bighorn Sheep Genetics and a $5000 additional grant from National Geographic to include Glacier Bighorn Sheep in her research.