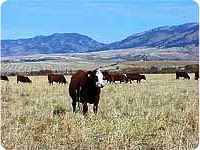 Animal Science
What is Animal Science? The Animal Science curriculum provides students with a foundation in biological and natural sciences, animal breeding and genetics, livestock production and management, reproductive physiology, livestock nutrition, and meat science.
Natural Resources and Rangeland Ecology
This curriculum emphasizes ecological principles to solve management problems. Coursework integrates knowledge of rangeland plant, soil, water, livestock and wildlife resources while cultivating critical thinking, problem-solving, and communication skills. Field experience is provided by using the surrounding environmental resources of the Gallatin Valley and Yellowstone National Park.
Careers
A degree in these science fields prepares the individual for a career in a variety of settings. Below is an example of some of those career opportunities.
| Interest | Degree | Possible Career |
| --- | --- | --- |
| Animals | ANS | Research, veterinary medicine, animal pharmaceutical, feed, equipment sales and support |
| Animal Nutrition | ANS | Extension specialist, county agent, technical consulting, sales support, university professor, ranch management, research, feed sales and support |
| Animal Reproduction | ANS | Research, embryo transfer and reproductive management enterprise, management, veterinary medicine, animal pharmaceutical, feed, equipment sales and support |
| Biology | ANS | Research support, veterinary medicine; animal pharmaceutical, feed, equipment sales and support |
| Biology | NRRE | Wildlife management, habitat management, natural resource conservation and restoration, land-use planning; research; consulting |
| Conservation | NRRE | Wildlife management, habitat management, rangeland management, natural resource conservation and restoration, land-use planning |
| Ecology | NRRE | Habitat management and restoration, land-use planning, research, consulting |
| Environmental Education | NRRE | Natural resource education, extension education |
| Geology and Soils | NRRE | Natural resource conservation and restoration, land-use planning, research, consulting |
| Horses | ANS | Equine enterprise management, equine stable manager, recreation enterprise management, research, veterinary medicine, equine pharmaceuticals, equine nutrition, equipment & tack sales, equine sales, breed registries, reproductive farms, horse park managers |
| Human nutrition | ANS | Research, consulting, meat processing, product development, food safety and quality control, feed sales and support |
| Livestock Business & Marketing | ANS | Livestock pharmaceutical, feed, equipment sales and support, banking, producer organizations |
| Livestock Production | ANS | Ranch management, feedlot management, livestock purchasing, meat processing management |
| Water Quality and Hydrology | NRRE | Research, water quality and hydrology consulting, natural resource conservation and restoration, land-use planning, research, consulting |
| Wildlife | NRRE | Wildlife management; habitat management; natural resource conservation and restoration; research |