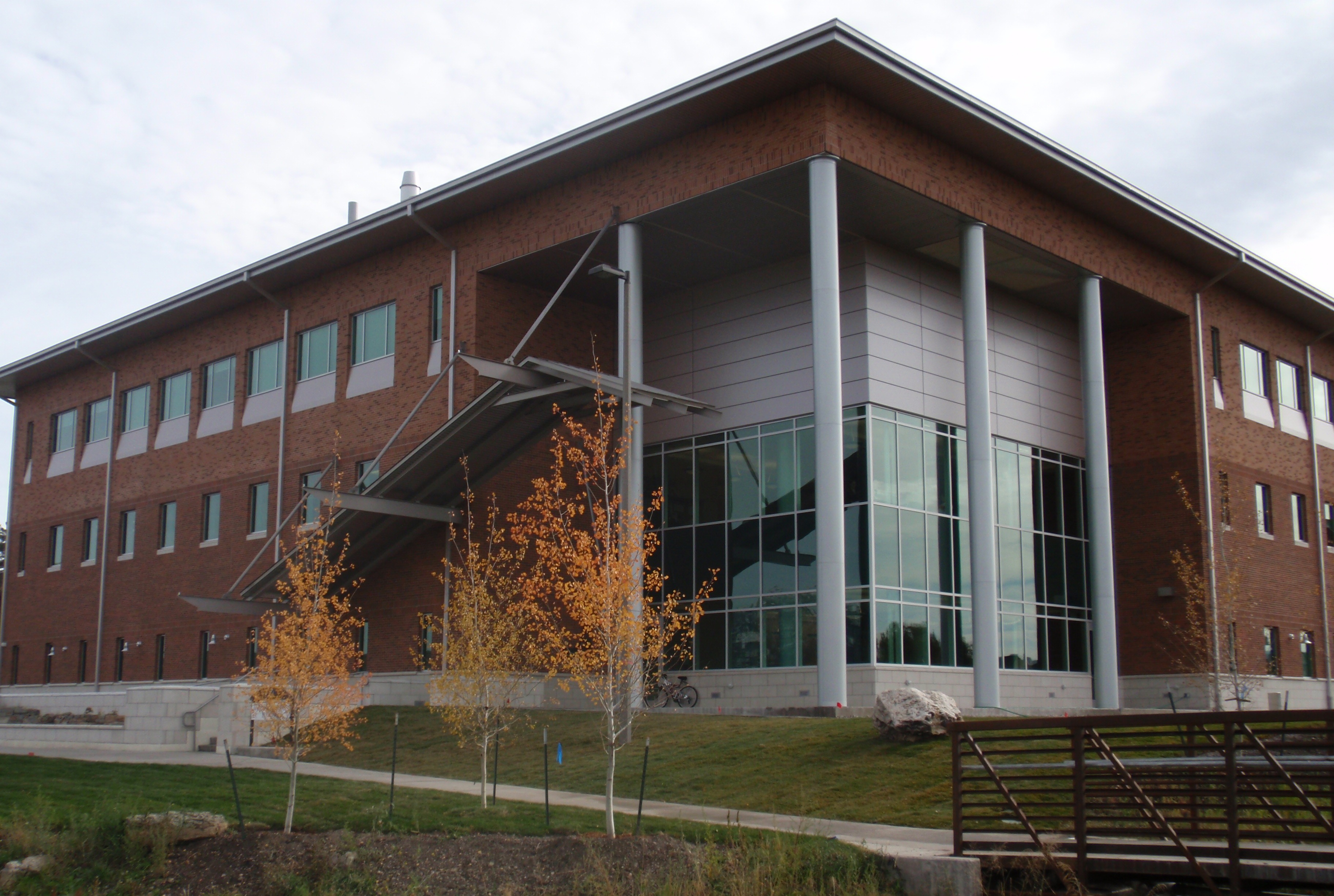 Animal Biosciences Building
Animal Bioscience Building (ABB) –Construction of the 40,463 square foot building began August 18, 2008. The Animal and Range Sciences Department moved in in late July 2010. The building was funded from three main sources: $3M MSU Foundation settlement, $6M State funding, and $7M from 141 Ranchers Circle member ($10,000 or more) plus many smaller donors. The $7M from "private" sources, almost 45% of the funding, is relatively unique for funding a public building, and indicates the strong support throughout the state in the department's future. For more information about the Animal Biosciences Building, click here.
Bozeman Agricultural Research and Teaching Farm (BART)
BART, formerly known as ' The Towne Farm' is located west of 19th Street and the main MSU campus. This farm comprises approximately 430 acres and houses the Oscar Thomas Nutrition Center, Miller Stock Pavilion, Equine Center, Horseshoeing School, Feed Mill, and Beef Center. The farm is dedicated to the service and support of research, teaching and extension activities relating to livestock and livestock management.
Fort Ellis Research Farm
Situated on a historic U.S. Cavalry fort, this research farm is located within a 20 minute drive of the Bozeman campus. Fort Ellis includes approximately 640 acres and was dedicated in 1930 as a "headquarters for the range sheep investigations" as conducted by the Montana Agricultural Experiment Station. This facility continues to play a large part in the research and teaching of the Department of Animal & Range Sciences in the areas of sheep, beef cattle, and horses.
Red Bluff Research Ranch
Red Bluff Ranch is located near Norris in Madison County, Montana, along the west side of the Madison River. The operation comprises 13,750 acres of land, 10,000 deeded and 3,750 leased. Most of this land is rangeland, with limited hay meadows along the valley bottoms. Elevations range from 4,600 feet to 6,200 feet above the Madison River canyon. The ranch occupies most of the once thriving late 19th-early 20th century gold mining community in the Hot Springs Mining District which was second only in gold production to Alder Gulch. At its peak of activity, there may have been a population of approximately 3,000. The ranch nearly surrounds the town of Norris. The founder of Norris, Alexander Norris may have owned much or all of the Red Bluff Ranch at one time. The Red Bluff Research Ranch (previously known as the Rowe Brothers Ranch) was purchased for $164,000 ($16.83 per acre). The total acreage was 9,746. Two U. S. Forest Service Grazing Permits (Muddy Greek, Cache Creek) in the Gallatin National Forest came with the Rowe property. Some small additional land exchanges and purchases have taken place over the last 45 years. The grazing permits were returned to the Forest Service in 1976. A new lambing facility and mixing barn at the ranch was constructed in about 1990. This made lambing much easier. There are currently about 170 head of cattle and 900 head of sheep maintained on a year round basis at the research ranch. These livestock along with the range areas are used for both teaching and research.
Bandy Experimental Ranch
This is a 1,437 acre operating cattle ranch located in the Blackfoot River drainage, 50 miles northeast of Missoula, Montana. In 1993 the Montana Forest and Conservation Experiment Station of the University of Montana, Missoula, entered into an agreement with the Agricultural Experiment Station at Montana State University, Bozeman to conduct joint operations and cooperative research on the property. The ranch is comprised of 1,827 acres of timberland, 1,226 acres of native pasture and water which includes a 50 acre reservoir, and 384 acres of irrigated hay land. Ongoing research on the ranch includes; analysis of riparian-wetland vegetation; effects of wildlife and livestock grazing on riparian areas; effects of early spring elk use on summer livestock pastures; and studies of wildlife friendly fencing techniques for livestock.
Plant Growth Center
The Plant Growth Center (PGC) is a teaching and research facility available to the College of Agriculture staff. The current 60,000 square-foot facility, which was completed in 1987 houses 29 glasshouse rooms with 8,300 square feet of bench space - both temperature and light are micro-computer controlled. For more information about the Plant Growth Center, click here.
Northern Agricultural Research Center (NARC, cooperating)
The Center is located about seven miles southwest of Havre on U.S. Highway 87. The Northern Agricultural Research Center has approximately 500 acres of cropland 6000 acres of rangeland used for crop, beef cattle and range management research. Normally 350 beef cows and 300 calves are used in different projects. For more information about the Northern Agricultural Research Center, click here.
USDA-ARS Fort Keogh Livestock & Range Research Laboratory (LARRL, cooperating)
Fort Keogh is a 55,000 acre USDA - Agriculture Research Service (ARS) rangeland beef cattle research facility. It is 1 of 14 research locations that make up the 8 state Northern Plains Area of ARS. It is run in cooperation with the Montana Agricultural Experiment Station, the agriculture research component of Montana State University. The mission of Fort Keogh is to research and develop ecologically and economically sustainable range animal management systems that ultimately meet consumers needs. For more information about USDA-ARS Fort Keogh Livestock & Range Research Lab, click here.
USDA-ARS U.S. Sheep Experiment Station (USSS, cooperating)
The U.S. Sheep Experiment Station is located in Dubois Idaho. The mission of the station is to produce technology to increase efficiency of livestock production in a manner that assures agricultural and natural resources are available for our grandchildren. For more information about USDA-ARS U.S. Sheep Experiemtn Station, click here.