Experiential Learning in the DSRMP
Learning by Doing
Students in the Dan Scott Ranch Management Program have numerous opportunities for hands-on learning experiences during the academic year. This experiential education adds value to the ranching systems degree and complements classroom education with working, applicable knowledge.
---
Farm, Ranch and Range Tours
By touring Montana farms, ranches and ranges, students gain firsthand knowledge of the workings of different operations and landscapes, while also making valuable connections with farmers, ranchers and natural resource managers.
Below, left: Students and attendees of the Montana Range Tour, held Aug. 30-31, 2022, are shown at Sieben Live Stock Co. Hosted by the Cascade Conservation District and the Montana DRNC Rangeland Resources Program, the tour provided an excellent opportunity for students to learn directly from progressive practitioners who are building soil, increasing forage productivity and building resilience for their operations.
Below, right: More than 70 ranchers and students gathered Oct. 7, 2022, for the inaugural Production Symposium hosted by the MSU Dan Scott Ranch Management Program. The symposium, "Calving Season: When is Optimal for Your Ranch?" included a tour of MSU's Red Bluff Ranch led by Noah Davis, ranch foreman and MSU alum.

Workshops and similar learning opportunities build confidence and create important networks for our studentsthat not only benefit them during their time at MSU, but also in their future careers in ranch management.
Below: Students experienced a hands-on day of learning at the 2022 Winter Grazing Workshop hosted by Seiben Live Stock Co. The Hibbard family and their employees presented information about winter nutrition, herd behavior, fencing techniques, and cues for when it is time to move cattle. Students also benefitted from visiting with producers who attended the workshop and shared their grazing experiences.

---
Artificial Insemination Certification
Graduating seniors in theMSU Dan Scott Ranch Management Programand theDepartment of Animal & Range Scienceshad the opportunity to become certified in artificial insemination through a class hosted by Select Sires. This valuable skill and certification increases student hireability for future ranch employment.


---
Internship Safety Training
Prior to starting their internships, students attend safety trainings to prepare them for a safe, productive summer on their host ranches.
Below: MSU students and students in the Montana DNRC Working Lands Internship Program teamed up in May 2022, for a safety training taught by Jim Larson, Montana Ag Safety Program. Past interns were also on hand to share their experiences.

---
Whit Hibbard Low-Stress Livestock Handling Clinic
Students and local ranchers were invited to attend a two-day Low-Stress Livestock Handling Clinic taught by Whit Hibbard, expert in and proponent of the method. TheMSU Dan Scott Ranch Management Programteamed up with World Wildlife Fund's Sustainable Ranching Initiative and the Montana DNRC Rangeland Resources Program to provide this excellent opportunity for students to get classroom and hands-on learning right beside local ranchers. Photos by Marcus "Doc" Cravens.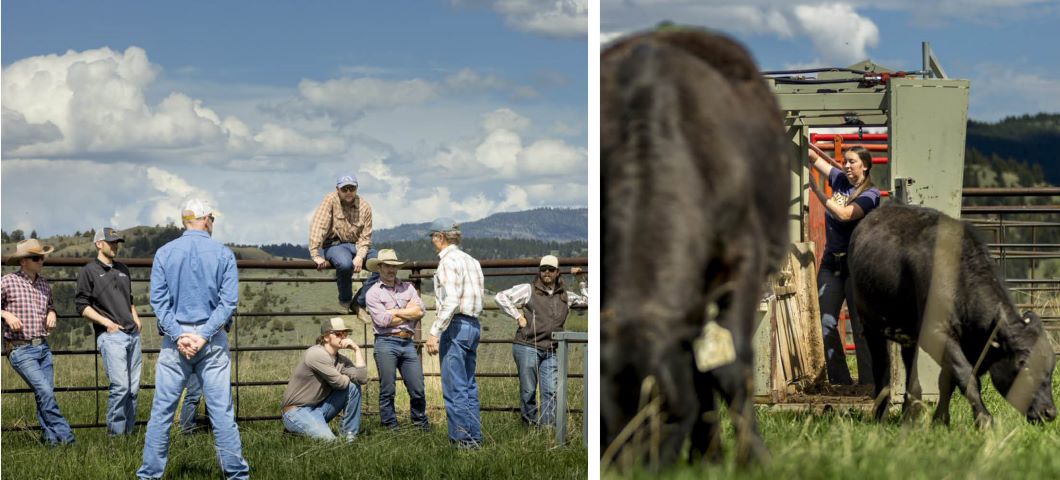 ---
Research and Communication
Students have opportunities to share their research projects with faculty, students and stakeholders at various conferences, research showcases and networking events. The ability to convey the importance of their research and research methods in a clear and concise manner, while also answering research-related questions, helps them build and hone communication skills they will use while managing a ranch and in other aspects of their lives.
Below: Cayden Rose (Class of '23) won first place at the 2022 MSU Nutrition Conference and Livestock Forum for his research poster "Develop Spreadsheets to Determine Economic Viability of Four Different Calving Season Scenarios for the Hamilton Ranch." The poster describes Cayden's second summer internship project for Hamilton Ranch, in which he explored how changing part of the herd to fall calving could generate more revenue and add diversity to the ranch's marketing strategy.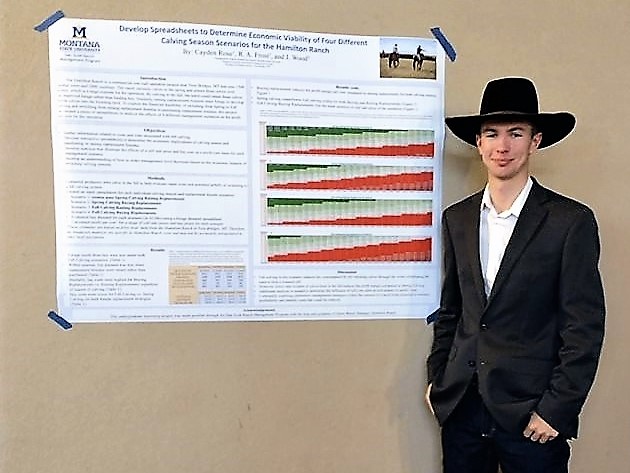 ---
Additional Experiences (Not a comprehensive list.)
Montana Soil Health Symposium: Hosted by the Natural Resources Conservation District and partners, ranching systems students attended one day of the conference to hear speakers on soil health and regenerative grazing practices, and to meet with progressive ranch owners and managers.

Ranching Profitability Course: As part of a partnership between the Plank Stewardship Initiative and the DSRMP, students enrolled in ranching systems attended a three-day workshop on ranching profitability that highlighted strategies for economic analysis of each component of the ranching system operation.

Raising the Steaks Environmental Stewardship Tour: Held on the award-winning Castle Mountain Ranch near White Sulfur Springs, this tour gave ranching systems student, Tristan Bess, an opportunity to interact with the Fryer family, the multi-generational managers of the historic and breathtaking ranch. Along with other presenters, the Fryers shared their experiences with developing water resources to improve livestock distribution; challenges afforded by harsh climate and poor soils; efforts to prevent destructive wildfires through selective timber management; stewardship of the land; and their commitment to livestock health and horsemanship.