Natural Resources & Rangeland Ecology
Undergraduate Degrees in Natural Resources and Rangeland Ecology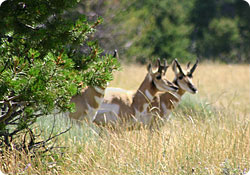 This program has a primary focus upon the study of the interaction of livestock and wildlife and their rangeland habitats. The program places emphasis on soil, water and vegetation attributes which influence habitat ecology and management for livestock and wildlife. The curriculum, administered by the Department of Animal and Range Sciences, includes course work in basic and applied plant and animal sciences, and wildland management. We are professionally accredited by the Society for Range Management.
Additionally a B.S. in Natural Resources and Rangeland Ecology prepares students to pursue a Master of Science degree or a variety of natural resource jobs with state and federal agencies or private industries.
Degree Options in Natural Resources and Rangeland Ecology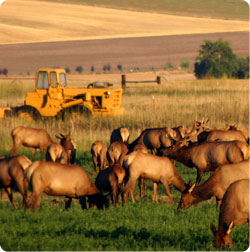 Graduate Degree in Animal and Range Sciences - Range Science Emphasis
Research and training opportunities in the Range Science programs are diverse, and students with a wide variety of backgrounds, goals, and educational needs are accepted. Major areas of study are range ecology, habitat management, watershed management, grazing management, monitoring, riparian ecosystems, measurements, and plant-animal (livestock and wildlife) interactions. A graduate degree in range science prepares for careers in rangeland management, wildlife management, habitat management, natural resource conservation and restoration, research, land-use planning, and consultation. Research facilities include the Red Bluff Research Ranch, several research centers of the Montana Agricultural Experiment Station, U.S. Livestock and Range Research Station at Miles City, Montana, and the U.S. Sheep Experiment Station at Dubois, Idaho. Cooperative projects with ranchers and federal and state agencies are also conducted. Supporting courses at the graduate level include botany, wildlife biology and management, soils, animal science, earth science, plant science, statistics and biochemistry.
Please feel free to contact any advisors whose research may interest you.
Animal and Range Sciences Faculty