The Ranching System degree in the Montana State University Dan Scott Ranch Management Program is designed to produce successful ranch managers equipped for the ever-changing landscape of the ranching industry.
In addition to experiencing a diverse array of classroom and experiential coursework in animal production, natural resources management, economics and business, students gain valuable hands-on experience through two summer-long internships on actual working ranches in and outside of Montana.
This unique program provides students real-world experience while enhancing communication and leadership skills.
Click here to download a pdf of this information.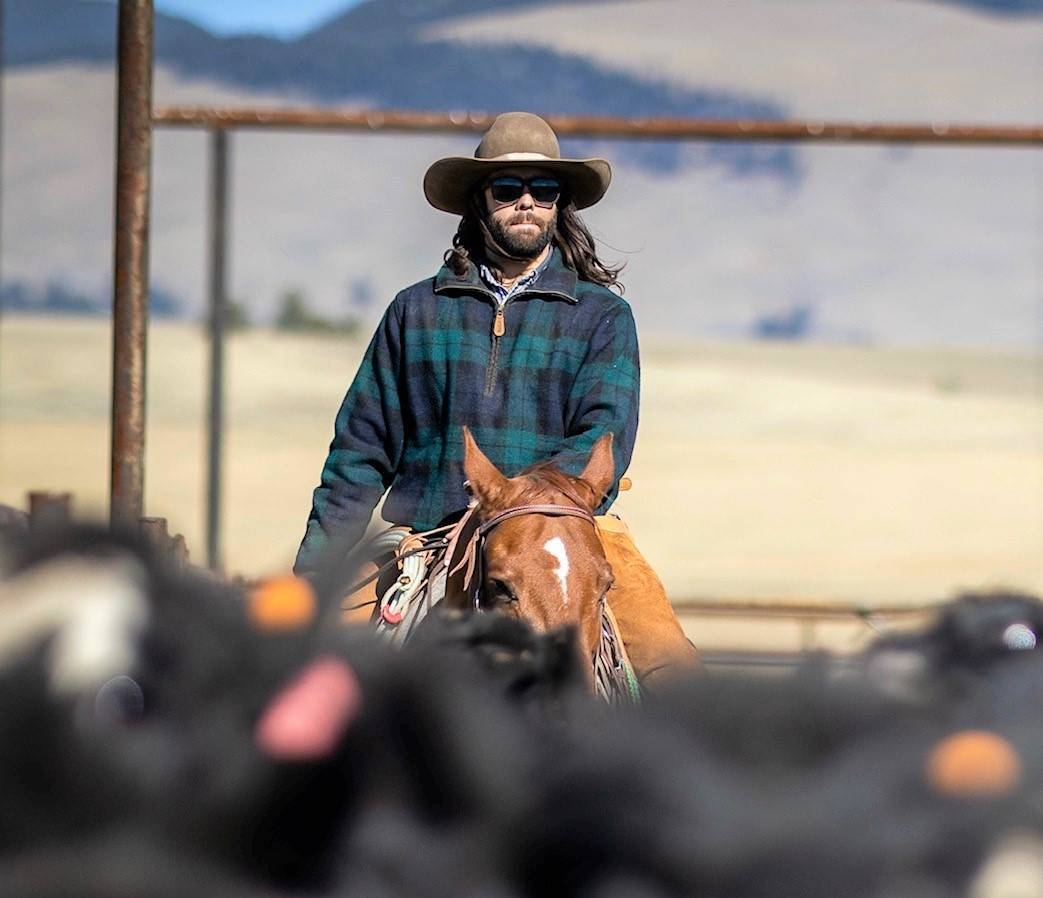 Carlo Giovannitti (Class of 2025) is a U.S. Marine Corps veteran from New Jersey.
---
The Curriculum
Students in the program take courses centered on three academic pillars:
Animal Science
Students gain a foundation in biological and natural sciences, animal breeding and genetics, reproduction, physiology, nutrition and livestock production. We also offer specialized coursework that incorporates sustainable resource management and wildlife-livestock interactions.
Range Management
Students explore rangeland resources and management principles, studying ecology, water resource management and methods of conservation and sustainable management for the benefit of current and future generations.
Business
Coursework fosters a broad understanding of business concepts and practices that support ranch management. Classes cover topics including financial accounting, international business, spreadsheet and databases, management and organization, negotiations and human resources.
Our graduates will:
Design and evaluate sustainable ranch management systems by synthesizing and applying knowledge of livestock production, business and economic aspects of ranch management, and rangeland ecology and management to a systems-level approach to ranch management. [knowledge]
Critically review and evaluate information to make decisions regarding the management of the whole ranching enterprise in order to achieve management goals. [critical thinking]
Demonstrate effective oral and written communication to a range of audiences and within collaborative environments. [communication and collaboration]
Use scientific principles to formulate questions, explore solutions, and solve real-world problems and advocate based on scientific principles. [problem solving]
Practice ethical conduct appropriate to the professional community and advocate for sustainable management of all resources involved in the ranching industry. [ethics]
A minimum of 120 credits is required to graduate, 42 must be 300-level or above.
Admission required at the junior level. Transfer students must pursue sophomore level courses at MSU.
CR = course credits, YR = year (FR = freshman, SO = sophomore, JR = junior, SR = senior).
Ranching Systems Degree

Dept/Course#
Course Title
CR
YR
Semester

AGED 140US

or

COMX 111US

Leadership Dev for Ag & Ind Employee
3
FR
FS (F)
Public Communication
FS(F)
BIOB 170
Principles of Biological Diversity
4
FR
FS(F)

CHMY 121IN &

CHMY 122IN

Intro General Chemistry

Intro General Chemistry Lab

3

1

FR
FSSu(F)
NRSM 101
Natural Resource Conservation
3
FR
F
NRSM 102
Montana Range Plants Lab
1
FR
F
ANSC 100
Intro Animal Science
3
FR
FS(S)
BIOB 160
Principles of Living Systems
4
FR
FS(S)
ECNS 101IS
Economic Way of Thinking
3
FR
FS(S)
WRIT 101W
College Writing I
3
FR
FSSu(F)
Transfer students must pursue Sophomore level courses at MSU
Dept/Course#
Course Title
CR
YR
Semester
ACTG 201
Principles of Financial Acct
3
SO
FSSu(F)
ANSC 202
Livestock Feeding
3
SO
F
NRSM 240
Natural Resource Ecology
3
SO
F

CHMY 123 &

CHMY 124

Intro to Organic Chemistry and Biochem

Intro to Organic Chem/Biochem Lab

3

1

SO
FSSu(F)
STAT 216Q
Intro to Statistics
3
SO
FSSu(S)
ACTG 202
Principles of Managerial Acct
3
SO
FSSu(S)
ANSC 234
Livestock Mgmt Beef 1
1
SO
S
ANSC 265
Anatomy and Physiology of Domestic Animals
3
SO
S
ANSC 266
Anatomy & Physiology of Dom Animals Laboratory
1
SO
S
BGEN 242D
Intro to International Business
3
SO
FS(S)
BMIS 211
Speadsheet and Database Skills
3
SO
FSSu(S)
Admissions required to Upper Level Program
| Dept/Course# | Course Title | CR | YR | Semester |
| --- | --- | --- | --- | --- |
| RS 398 | Junior Internship | 1 | JR | Su |
| ENSC 245IN | Soils | 3 | SO | F |
| ANSC 320 | Animal Nutrition | 3 | JR | F |
| ANSC 321 | Physiology of Reproduction | 4 | JR | F |
| RS 306 | Livestock Mgmt in RS | 1 | JR | F |
| IA or IH core | University required core course | 3 | JR | FSSu(F) |
| ANSC 322 | Princ Animal Breeding & Genetics | 3 | JR | S |
| ANSC 337 | Disease of Domestic Lvstk | 3 | JR | S |
| AGBE 210 | Economics of Ag Business | 3 | SO | FS(S) |
| BIOO 230 | Identification of Seed Plants | 4 | SO | S |
| BMGT 335 | Management & Organization | 3 | JR | S |
| RS 316 | Forage Mgmt in RS | 1 | JR | S |
Dept/Course#
Course Title
CR
YR
Semester
RSP 498
Senior Internship
1
SR
Su
IA or IH core
University Required Core Course
3
SR
FSSu (F)
ANSC 434R
Beef Cattle Management
4
SR
F
AGSC 342
Forages
3
JR
F
RS 406
Finances & Decision Making in RS
1
SR
F
BMGT 406
Negotiation/Dispute Resolution
3
SR
FS(F)
NRSM 353
Grazing Ecology and Mgmt
3
SR
S

WILD 420

or

NRSM 430

Range & Wildlife Policy and Planning or

NRSM 430 Natural Resource Law
3
JR
S
WILD 426
Wildlife Habitat Management
3
SR
S

NRSM 455

or

ENSC 272CS

Riparian Ecology & Mgmt

or

ENSC 272 CS Water Resources
3
SR
S
RS 416
Systems Thinking for Ranch Managers
2
SR
S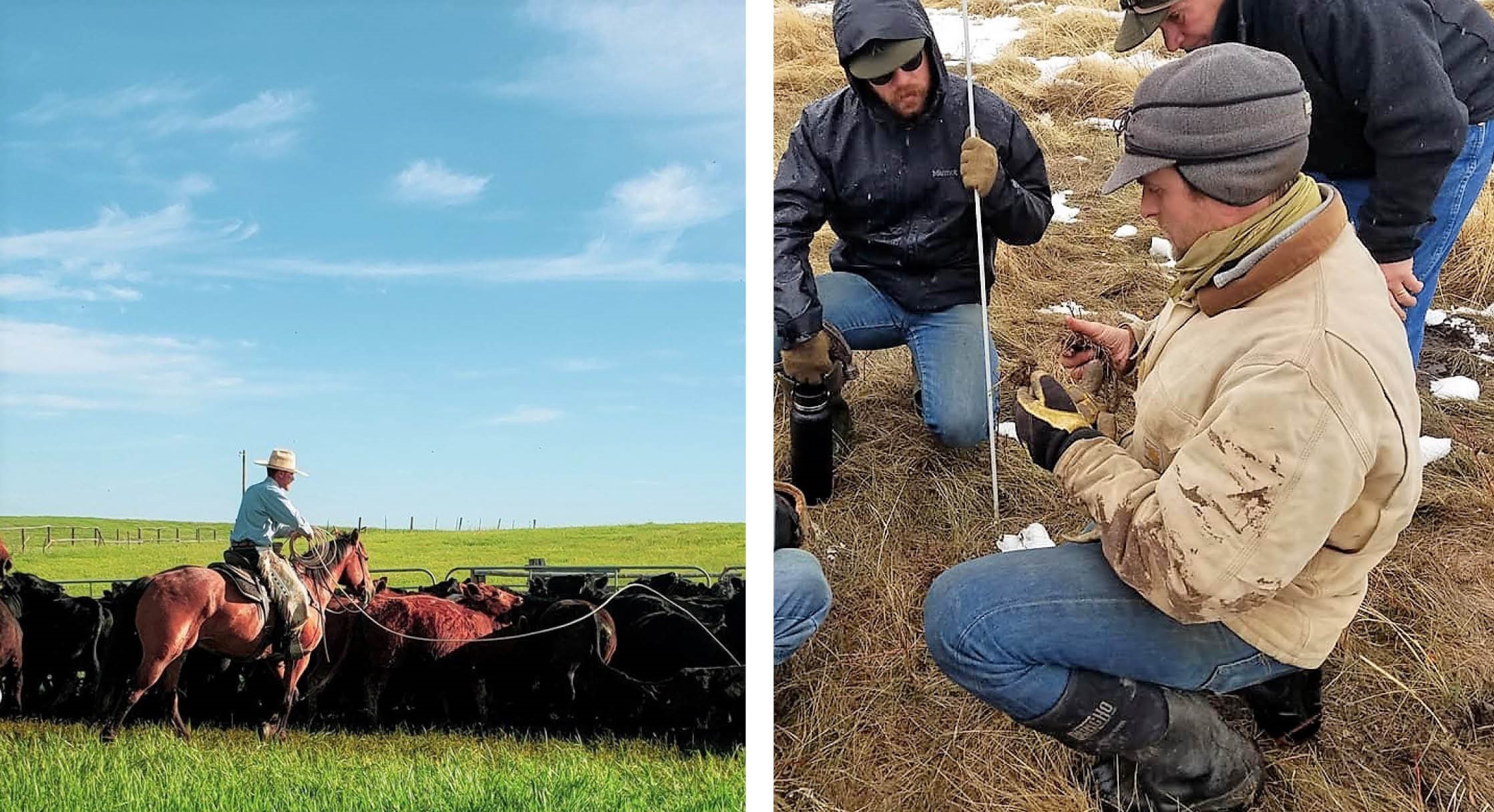 ---
Learn by Doing: Summer Internships
Click here to read student internship highlights.
The Ranching Systems degree offers a highly individualized educational experience. Admission to the Dan Scott Ranch Management program's upper level is limited to 10 students per year to ensure the experience is singularly tailored to each student.
Students accepted into this unique program are paired with a partner ranch for two consecutive, summer-long internships. These for-credit internships are hosted by exemplary working ranches and provide the hands-on opportunity to effectively bridge the gap between the principles you learn in the classroom and real-world application in ranch management.
During the second summer, students work closely with their host ranch to solve a specific problem or to explore a potential opportunity, allowing them to apply their knowledge and skills in a real-world situation.
"My biggest takeaway from this program is you do get to experience something different...get out of your comfort zone." ~ Georgia Wortman, Class of '23
Georgia Wortman (Class of 2023) grew up on a ranching operation in Big Sandy, Montana.
---
What Makes Us Different?
Montana State University has outstanding discipline-specific undergraduate programs in Agricultural Economics, Agricultural Business, Business, Animal Science, and Natural Resources and Rangeland Ecology. A 2016 survey of Montana ranchers and allied industries indicate that all of these areas of study are important for an undergraduate program educating future ranch managers.
The table below shows the general program structure in the three related programs, along with the Ranching Systems Degree Program. The Ranching Systems Degree is a systems-level, rather than a discipline-specific approach, to educating and training outstanding graduates in the field of ranch management.
Ranching Systems Degree vs. Other Majors at MSU

Livestock, Management and Industry option

Natural Resources and Rangeland Ecology; Rangeland Ecology and Management option

Credits

Econ and Business

45

15
3
27

Animal Science

9a

~43

~10

28

~15

~61

29

Freshman level math (including calculus

16
15
19
19

Internship, Seminar, etc.

0
3
0
7

a combination of range/ecology and animal science

~ = includes blocks in which multiple discipline options are available
---
Success after MSU: Career Opportunities
The Ranching System degree prepares you for a successful career in the ranching industry. Graduates are prepared to enter the ranch management field and make an immediate impact while building upon their collegiate experience.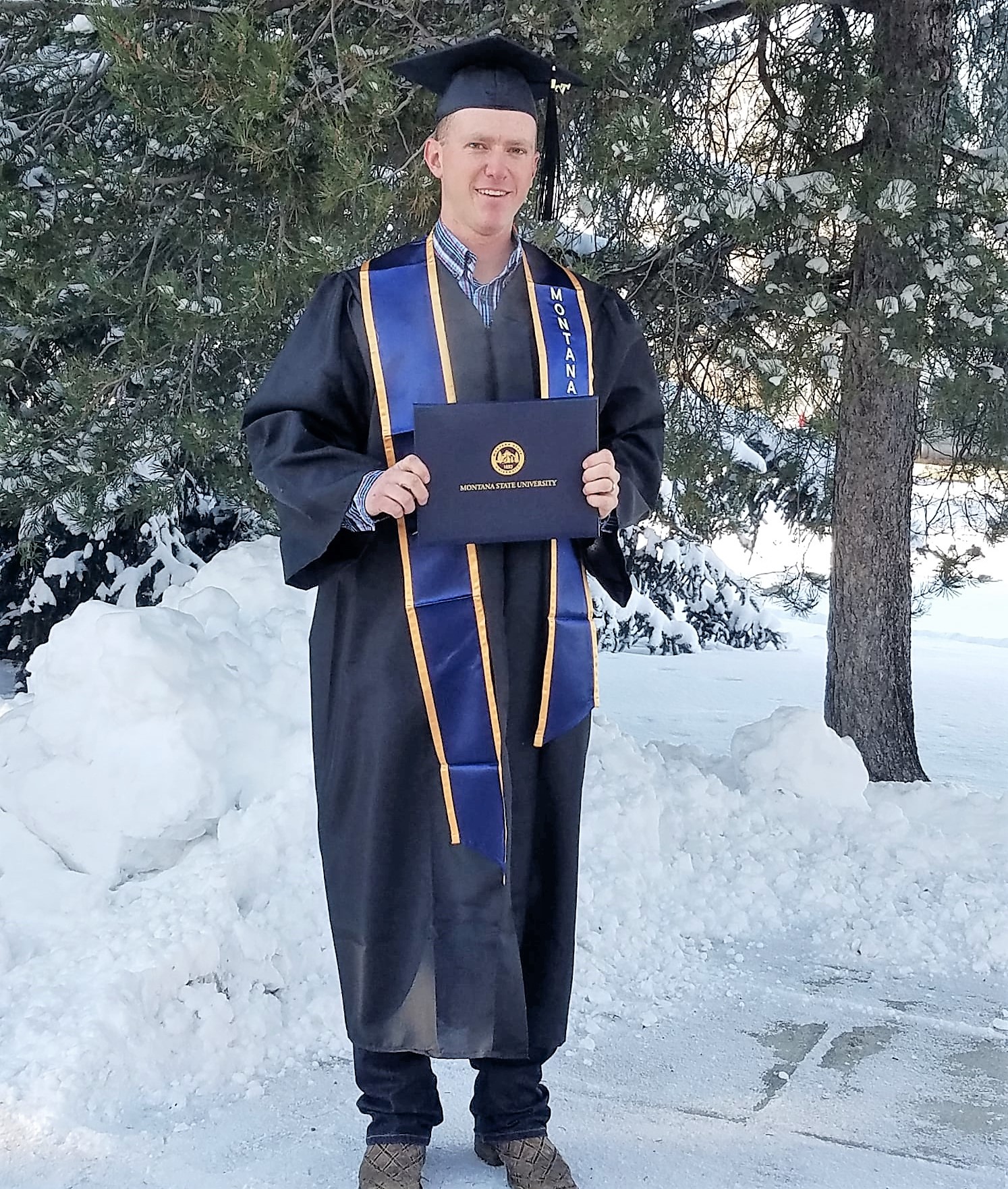 Tristan Bess, the first student to enter the Dan Scott Ranch Management Program, graduated in December 2021.
Tristan Bess, of Wilton California, became the first student to earn a bachelor's degree in ranching systems from the Dan Scott Ranch Management Program.
Tristan completed two summer interships on the Padlock Ranch in Ranchester, Wyoming. During his first summer, he worked with the ranch's replacement heifers. During his second year, he developed a decision support tool to compare different heifer development strategies for the ranch.
After graduation, Tristan and his wife, Emma, headed to the Ox Bow Ranch near Wolf Creek, MT, where he worked as "a cowhand with added responsibility" to gain more experience and increase his knowledge of registered cattle operations while continuing to learn more about the varied responsibilities of managing for an absentee owner.
Program lead Rachel Frost says Tristan exemplified the type of student the program seeks.
"He was not afraid to ask questions or give his opinion on things, but also of the mindset that something can be learned from every
place, situation, and person," she said.